<! -- Blog Post 1 -->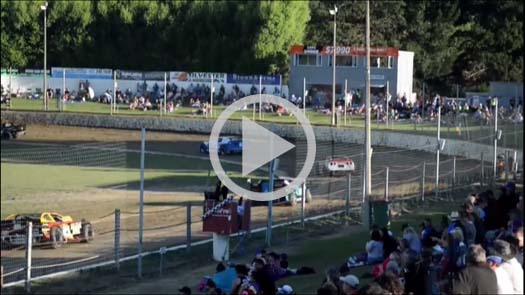 Vertex Super Cup - Woodford Glen
Thanks to RJPTV for the great meeting coverage.
Woodford Glen Speedway, 11 Nov 2017
Tonight really helped to boost my confidence with the new car.
Only a small field of cars on hand but they were good quality.
Throughout the night I had a couple of really good races challenging both Richie and Gavin on occasions.
We also had our first win tonight, carrying round the checkered flag on our victory lap (awesome!)
This class is just so competitive now and to be able to vie for pointy end status is wicked!
In the feature we came away with a 3rd place podium which is also new territory for the team while giving us that needed boost.
Absolutely loving the new car and the way our team are learning set-ups together while improving the overall results.
Central Motor Speedway - Ron Spriggs Memorial, 25 Nov 2017
I was pleasantly surprised to receive an invite to compete at this event so grasped the opportunity.
Glen and I ventured down and the weather was hot, hot, hot to say the least.
First heat we took off into the distance from our grid two start only to suffer from a slowly deflating tyre. It was apparent afterwards that something on the track had not only cut but penetrated right thru the tyre tread. This cost us the lead and the win, grrrr.
Heat two 811 left from grid six and we were wrapt to again finish 2nd and this time without incident.
Final heat from grid four with 5t rocket of Daryl Ainsley starting from grid one. We were leading the champs entering this final heat but knew Daryl wouldn't hang round.
And sure enough he took off and although I was going fairly good I just missed an exit from turn two allowing 147i Lloyd Phillips thru to push 811 back to finish 3rd.
Once the points were tallied we had secured 2nd overall in the championship, trailing Daryl by only 1 point WOW!
Just imagine if the flat and the soft pass had happened? HAHA.
I want to make mention here of the Central Motor Speedway Club including all it's volunteers and promotion team. They turn it on for us every time and I want to thank them for always making us feel so welcome.
Woodford Glen Speedway - Vertex Super Cup, 2 Dec 2017
So this is the big one for any Super Saloon racer in the South Island.
Home track advantage and we are steadily improving at each meeting. So what can we achieve at this one?
1, 2 and 3nz all in attendance plus the likes of Daryl Ainsley, Ray Stewart and the 21n rocketship of Ian Burson!
First heat I made a huge error and miss-read the track, leaving far too much air in the rear tyres. This meant lack of grip and a loose car. Appologies here to both Ricky and Owen who found out the hard way just how loose 811 was. Adding to the problem I had also under-estimated the amount of fuel we had used during wheel packing and the grand parade etc. So the engine sputtered for the last two laps resulting in last place.
Second heat and I tried a little too hard, spinning infield at turn two. Kept car going rejoining and actually making up a couple of spots but still lost a lot of ground.
So no passing points for 811 and nowhere near the top 8 shoot-out.
The feature had 811 leaving from grid 3 and we knew that we had a good car for the slick conditions a 30 lap race produces. We just had to keep out of any trouble and go as quick as possible without leaving any inside passing opportunites.
811 actually took the feature lead for several laps with only a couple of the top guns beating us to the checkered flag.
Ian and his team are on fire with the new 21n machine taking the top podium spot and last seasons Vertex Super Cup Champion 34t Ray Stewart showed he has no intention of giving in easy taking the second spot on the podium.
So after below average heat race results, there I was on the 3rd place podium ahead of some of the country's best. Congratulations to both Ian and Ray, What a Race!
The 811 Super Saloon team were estatic, I cannot thank Casey and Glen enough for their consistent efforts. (I understand they will be double checking tyres and fuel without me from now on LOL)
Two championship trophies in as many weeks which is more than we have had over the last two years LOL. I also want to thank Greg Keegan, John Lovelady and his team for the encouragement and support with the new car and the set-ups that just keep getting better.
Follow us on: